'Deal of the Year' Award
Awards || Affiliations
Over the years, Dr. B. R. Shetty has contributed immensely to the field of healthcare, both in the UAE and around the world. His efforts have been respected and acknowledged at a number of platforms, including the Order of Abu Dhabi, the highest civilian award by the UAE government, and the Pravasi Bharatiya Samman Award, given to him by the President of India.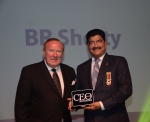 Andrew Neil, ITP Chairman and BBC Broadcaster presenting the 'Deal of the Year' award toIndian CEO Award Dr. B.R. Shetty.
We take great pride in announcing that our Founder and CEO – Dr. B.R. Shetty has been conferred with a special 'Deal of the Year' award at this year's Indian CEO Awards. Dr. Shetty received the award at the awards ceremony held at the Sofitel Hotel, Palm Jumeirah, Dubai on Monday, February 16, 2015.
This award was presented to Dr. B.R. Shetty for his work in securing the Travelex deal. Dr. Shetty's entrepreneurial passions are an inspiration to many. It is an honour to see his business endeavours receiving a prestigious award and international acclaim.
Let us congratulate Dr. B.R. Shetty, a man who is a positive role model for all of us at NMC, in receiving this award.