Dr. B. R. Shetty honoured at the Annual Health Awards 2017
Awards || Affiliations
Over the years, Dr. B. R. Shetty has contributed immensely to the field of healthcare, both in the UAE and around the world. His efforts have been respected and acknowledged at a number of platforms, including the Order of Abu Dhabi, the highest civilian award by the UAE government, and the Pravasi Bharatiya Samman Award, given to him by the President of India.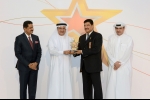 We are proud to share the news of Dr. B. R. Shetty, our Founder & CEO being honoured with a special award for his invaluable contribution to the region's healthcare industry at the inaugural edition of the Annual Health Awards. The awards took place at a star-studded gala event at the Godolphin Ballroom, Jumeirah Emirates Towers on Monday, January 16, 2017. The awards were jointly hosted by Dubai's Department of Economic Development (DED) and Dubai Health Authority (DHA). The event was brought about by Health magazine in a first-of-its-kind attempt at gathering of over 600 healthcare professionals and leaders of the UAE, including private and public sector.
Speaking at the event Dr. B. R. Shetty stated, "I am delighted to be a part of this initiative, which overall promotes new research in medicine, clinical trials and overall UAE government's vision of medical tourism. The magazine has been around for 20 years, being distributed in 40 countries. So, it's a unique and good initiative."
The Annual Health Awards has been initiated with the aim of publicising and promoting significant achievements from across the region, to inspire healthcare professionals and organisations to dream big and embark upon great endeavours."
Dr. B. R. Shetty, Founder & CEO, NMC Healthcare receiving the Annual Health Award 2017 from His Excellency Humaid Obeid Al Qutami, Chairman of the Board of Directors & Director General, Dubai Health Authority and His Excellency Sami Dhaen Al Qamzi, Director General, Dubai Department of Economic Development.