Dr. B R Shetty honoured with 'Indian Club – Bahrain Centenary Award'
Awards || Affiliations
Over the years, Dr. B. R. Shetty has contributed immensely to the field of healthcare, both in the UAE and around the world. His efforts have been respected and acknowledged at a number of platforms, including the Order of Abu Dhabi, the highest civilian award by the UAE government, and the Pravasi Bharatiya Samman Award, given to him by the President of India.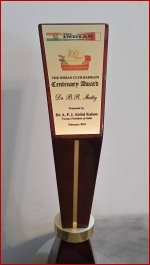 We are pleased to announce that our respected Founder & CEO – Dr. B R Shetty has been conferred with the 'Indian Club – Bahrain Centenary Award' at the recently held celebratory event on Thursday, February 05, 2015 at the Indian Club premises in Bahrain.
'This Indian Club – Bahrain Centenary Award' was given to Dr Shetty for his valuable contributions in serving the society and acting as a mascot for the Indian community and strengthening the relationship between India and Bahrain.
He was conferred this award by the Indian Club – Bahrain, a prestigious organization in Bahrain which completed 100 years in 2015. The Club provides a platform for the Indian community to come together and help preserve India's rich cultural heritage.