Dr. B R Shetty receives Legend of the Century Award
Awards || Affiliations
Over the years, Dr. B. R. Shetty has contributed immensely to the field of healthcare, both in the UAE and around the world. His efforts have been respected and acknowledged at a number of platforms, including the Order of Abu Dhabi, the highest civilian award by the UAE government, and the Pravasi Bharatiya Samman Award, given to him by the President of India.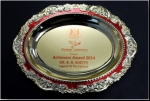 We are pleased to announce that our respected CEO – Dr. B R Shetty was presented with Legend of the Century Award at the recently concluded award ceremony on Thursday, July 10, 2014 at the Attlee Room, House of Lords, London, United Kingdom.
He was conferred this award by the Human Achievers Foundation, which is a growing social organisation dedicated to creating a more humanitarian society. With a focus on destitute, uneducated women and sexually abused children, the foundation is working towards innovating new ways of supporting and reaching out to the needy members of the society. Its objectives include charitable, religious social work, medical, scientific, literary and educational activities.
This lifetime achievement award was given to Dr Shetty for his valuable contributions in creating a healthier world and for his passion for serving the community.