Dr. B. R. Shetty wins Arabian Indian Czar Award
Awards || Affiliations
Over the years, Dr. B. R. Shetty has contributed immensely to the field of healthcare, both in the UAE and around the world. His efforts have been respected and acknowledged at a number of platforms, including the Order of Abu Dhabi, the highest civilian award by the UAE government, and the Pravasi Bharatiya Samman Award, given to him by the President of India.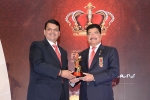 We are pleased to share the news that our Founder, CEO and Executive Vice Chairman – 300_200Dr. B.R. Shetty has received the prestigious Arabian Indian Czar award presented by Times Now.
The coveted award was conferred upon Dr. B. R. Shetty by Mr. Devendra Fadnavis, Chief Minister of Maharashtra, India at a scintillating ceremony at Dubai on Saturday, June 13.
Dr. B. R. Shetty was presented with the award for taking on giant projects in the UAE and for his involvement in advancing the economy in the Arab world.
Let us congratulate Dr. B.R. Shetty, who epitomizes excellence in all realms of life.