Dr. Shetty was presented with the Indian Achievers Award on 16th March 2013 by Excellency Abdulla Zayed Saqr Al-Nahyan
Awards || Affiliations
Over the years, Dr. B. R. Shetty has contributed immensely to the field of healthcare, both in the UAE and around the world. His efforts have been respected and acknowledged at a number of platforms, including the Order of Abu Dhabi, the highest civilian award by the UAE government, and the Pravasi Bharatiya Samman Award, given to him by the President of India.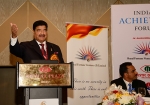 We are proud to announce that our respected CEO, Dr. B.R. Shetty has been conferred with the Lifetime Achievement Award at the recently concluded 6th International Achievers Summit organised in Dubai held on March 16, 2013, by the Indian Achievers Forum. The award came as recognition of Dr. Shetty's outstanding achievements in the field of healthcare.
Dr. B.R. Shetty started his journey as a pharmacist with New Medical Centre in 1975. In the 38 years that passed, Dr. Shetty made NMC synonymous with healthcare in the UAE. With his futuristic vision and undying spirit, Dr. Shetty transformed NMC Healthcare from a single storey clinic to specialty hospitals in UAE and across the globe. Everyone in the UAE is aware of NMC Healthcare and how it has the touched lives of the people of UAE. Dr. Shetty's meteoric rise is testimony of an enterprising mindset coupled with diligent efforts and determination.
This Lifetime Achievement Award serves as a badge of honour for a man who foresaw the future and success followed.