Frost & Sullivan – Lifetime Achievement Award, 2013
Awards || Affiliations
Over the years, Dr. B. R. Shetty has contributed immensely to the field of healthcare, both in the UAE and around the world. His efforts have been respected and acknowledged at a number of platforms, including the Order of Abu Dhabi, the highest civilian award by the UAE government, and the Pravasi Bharatiya Samman Award, given to him by the President of India.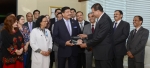 Dr. B R Shetty – Founder & Chief Executive Officer of the Abu Dhabi based NMC Healthcare and Managing Director & CEO of UAE Exchange. He was presented with Frost & Sullivan – Lifetime Achievement Award of the Year 2013 on Monday, June 23, 2014 by Mr. Shashidhar Y S, Managing Director – India, Middle East & North Africa at Frost & Sullivan International and Mr Sandeep Sinha, Vice President – Middle East, North Africa and South Asia, Healthcare & Life Sciences at Frost & Sullivan.
Frost & Sullivan Awards are presented to companies and individuals who have pushed the boundaries of excellence in the industry – rising above the competition and demonstrating outstanding contribution to industry and economic growth. Through this award, Dr Shetty was recognised for playing a pivotal role in development and strengthening of the healthcare sector in the UAE and for his exemplary leadership qualities and involvement in philanthropic activities.
Dr Shetty's journey is an inspiration to many and exemplifies the power of the human will. He is a truly deserving recipient of this award and has reached the summits of success through hard work and perseverance.