Golden Peacock Awards
Awards || Affiliations
Over the years, Dr. B. R. Shetty has contributed immensely to the field of healthcare, both in the UAE and around the world. His efforts have been respected and acknowledged at a number of platforms, including the Order of Abu Dhabi, the highest civilian award by the UAE government, and the Pravasi Bharatiya Samman Award, given to him by the President of India.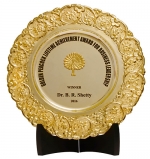 It is with great pleasure we would like to announce that Dr. B. R. Shetty, Executive Vice Chairman and CEO NMC Healthcare, has won the Golden Peacock Lifetime Achievement Award for Business Leadership. The honour came to us at the 16th Global Convention on Corporate Governance & Sustainability Awards ceremony in London, England on October 18th, 2016 at the Hotel Mayfair Fairmont.
Golden Peacock Awards, instituted by the Institute of Directors, India in 1991, are now regarded as a benchmark of Corporate Excellence worldwide. The Awards are bestowed annually and are designed to encourage total improvement in each sector of business.