Lakshya Business Visionary Award 2014
Awards || Affiliations
Over the years, Dr. B. R. Shetty has contributed immensely to the field of healthcare, both in the UAE and around the world. His efforts have been respected and acknowledged at a number of platforms, including the Order of Abu Dhabi, the highest civilian award by the UAE government, and the Pravasi Bharatiya Samman Award, given to him by the President of India.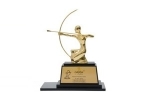 We are pleased to announce that our respected CEO – Dr. B R Shetty was presented with the Lakshya Business Visionary Award at the recently concluded award ceremony on Tuesday, October 14, 2014 at the National Institute of Industrial Engineering (NITIE) Campus in Mumbai, India.
He was honoured with a Shawl, a Scroll and the Award by the Director of NITIE. Dr Shetty was recognised for his exemplary leadership and far-sighted vision by which he has established ventures that are global benchmarks for quality and innovation.
Lakshya Business Visionary Awards are given in recognition and appreciation of achievements to the icons of industry that changed the course of wind and came out winning due to their praiseworthy vision. Dr Shetty is truly an epitome of hard work, determination, passion and perseverance.